A man is strapping me into a seat hanging off a hand glider. It's not quite a hand glider however, it has a small motorised propeller at the back and a second seat for the man who will guide this contraption, using only a metal bar. On this we will fly high above the Victoria Falls waterfall on the Zambezi river – 1500 feet above to be precise.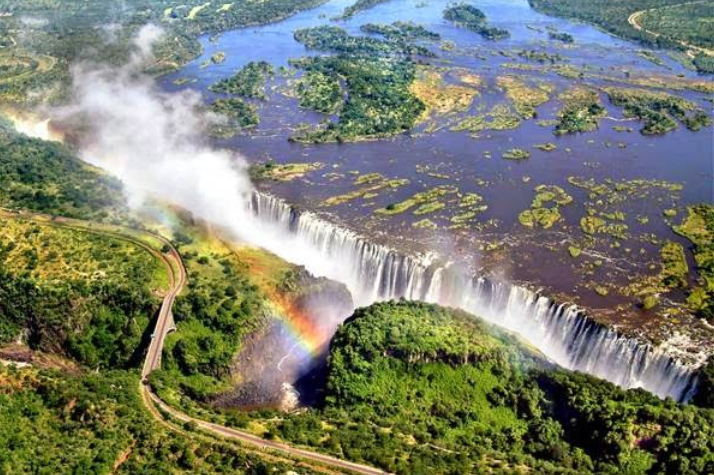 'Done this much before?' I ask, trying to make it sound like I'm making casual conversation rather than grilling him in panic. He chuckles.
'Do you get asked that a lot?'
He nods.
'Every time'.
I get through the bit where we're actually lifting off the ground and into the air by pretending I'm dreaming. But as we rise higher and higher and Zambia's vast landscape of mighty river, waterfalls and miles and miles of national park spreads out below us, I am gobsmacked by the beauty of it all and forget to be scared. Though I do have a momentary quiver when my guide points out a crocodile far below, feeding on a dead hippopotamus on the bank of the river.
Known locally as the 'smoke that thunders' Victoria Falls is one of the world's greatest wonders. Missionary and physician David Livingstone was the first European to enjoy the water's magnificence in the 19th century, shortly before he lost contact with the world for four years. He was eventually tracked down by the explorer Henry Stanley, with those immortal words, 'Dr Livingstone I presume'. The Falls are close to the border with Zimbabwe; my mobile phone constantly beeps welcomes to both countries as I move around in the area.
Riverside accommodation
If you're travelling to Zambia, the best place to stay is on the banks of the Zambezi itself. Fly to Livingstone airport and take a water taxi speedboat to your hotel James-Bond-style. Choose the Royal Livingstone hotel and have staff in traditional dress turn up to welcome you on the private landing jetty.
Our river journey to the hotel was magical – a blue sky, sunshine and my first glimpse of hippos, basking in the water as we passed. Two elephants came to the river's edge to drink, provoking excited screams from our boat and a herd of antelope passed by on the far bank. What's next, I wondered – lions and tigers and bears? – feeling almost hysterical with excitement. Monkeys, giraffes and zebras it turned out – just a few feet away from my room in the hotel gardens. Though the monkeys ventured a bit closer and enjoyed a little sit down on my patio chairs!
The Royal Livingstone is slap bang in the middle of a national park, and the resident wildlife are so used to people they seem constantly not to notice me just a few feet away. Again, apart from the monkeys who are constantly on high alert for any spare food. Breakfast at the hotel is an entertaining stand-off between human and monkey, as staff patrol the terrace to chase them away – though an occasional one will make a break for an unattended toast rack and leave at top speed, holding his breakfast trophy high in victory.
From the hotel's beautiful riverside terrace, the spray of the Victoria Falls is visible rising hundreds of feet into the air. From here it's an easy speedboat ride to Livingstone Island where you can swim in a rock pool at the edge of the waterfall and return to the island for a cooked breakfast, served under canvas.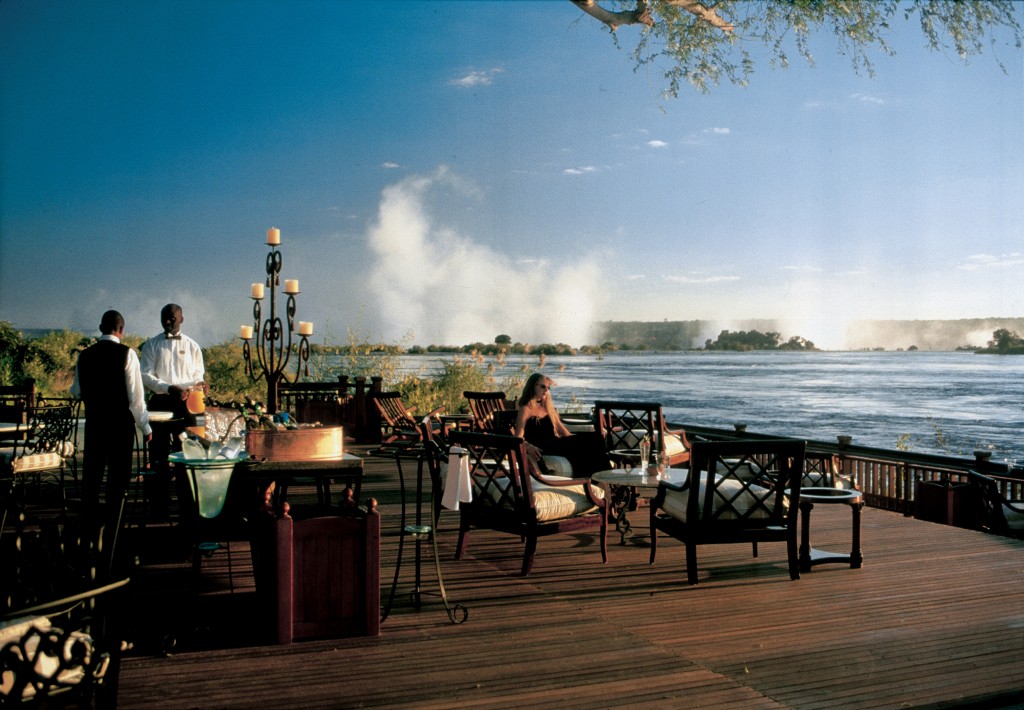 Zambian memories
I have so many wonderful memories of Zambia. Like taking a sunset cruise on the African Queen riverboat down the Zambezi, past hippos at their dinner (happily they're vegetarians) and mooring to watch the sun set in a blazing ball of red light.
Or having an elegant dinner aboard the Royal Livingstone Express steam train, children along the way running out to chase the train, smiling and waving and shouting 'hello' and occasionally 'sweets'.
Or visiting the village of Mukuni, which benefits from projects set up by the hotel's owner, Sun International, to help the local community and channel resources back into the areas it works in. The Royal Livingstone has its own charity project worker who co-ordinates all of its activities.
Or taking a walking tour of Victoria Falls – or, the most memorable of all – flying 1500 feet above it in a micro-light just a few hours before I flew back to the UK. My life since my return is certainly not as exciting as it was in Zambia. But it's definitely richer for having been there.
What to do in Zambia
Where to stay: The five-star Royal Livingstone hotel offers a plush colonial feel on the banks of the Zambezi with beautiful garden-view accommodation, al-fresco eating and drinking and resident giraffes, monkeys and antelopes.For more information visit www.suninternational.com. A four night luxury package starts from £1,599 per person, including international return flights with SAA and transfers. To book please call 0871 703 4240.
How to get there: We flew from Cape Town to Livingstone with Zambezi Airlines, for more information and booking visit www.flyzambezi.com. Livingstone airport, though small, is a hub of African and international travel – we returned to the UK with South African Airways, via Johannesburg. South African Airways has the largest route network within Southern Africa, offering flights to over 30 destinations, with daily direct overnight flights to Johannesburg and Cape Town from London Heathrow. For more details visit www.flysaa.com, talk to your travel agent or call on 0844 375 9680.