Walking across the mountains of Abuna Yosef in north Ethiopia is one of the most spectacular journeys ever. Not to mention pretty hair-raising, slightly hazardous and very challenging. There was a mule involved at the start. We eyed each other, I got on, he did a 360-degree turn on a rocky ridge, I slid off and that was it. For the rest of the journey I was walking. For five hours.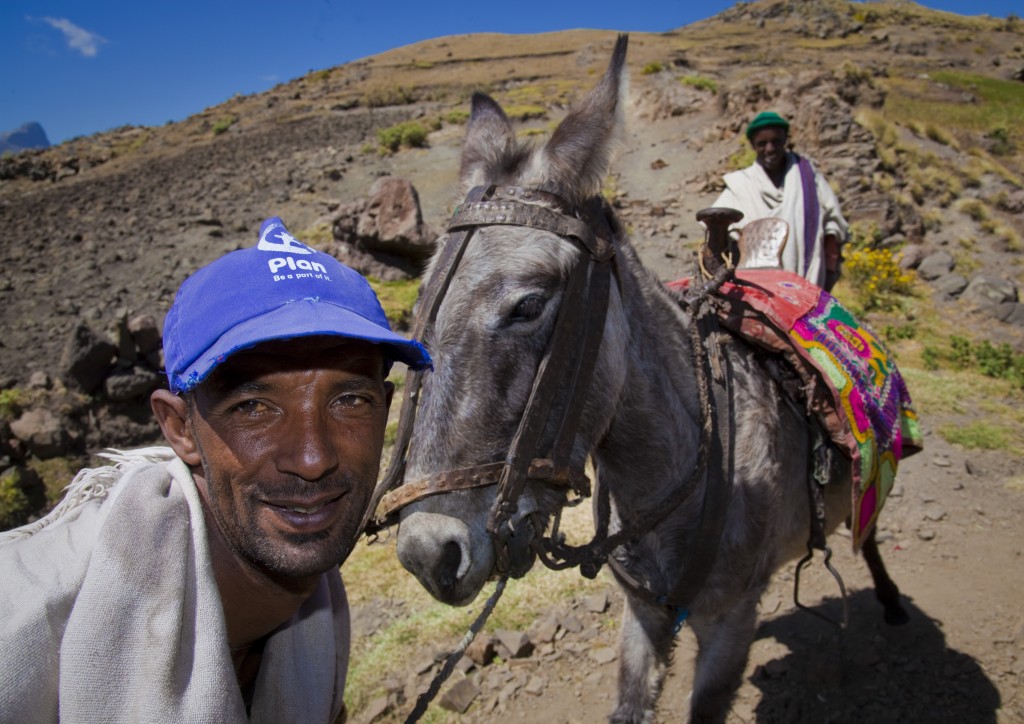 Mekonnen lives in one of the most remote parts of Ethiopia. I flew for an hour and a half from the capital Addis Ababa to Lalibela airport where I was met by Kibremidir from Plan, then it was a four-hour drive up rocky mountain tracks to meet our guides and the mules. The climb started from here, three mountain peaks ahead of us to cross.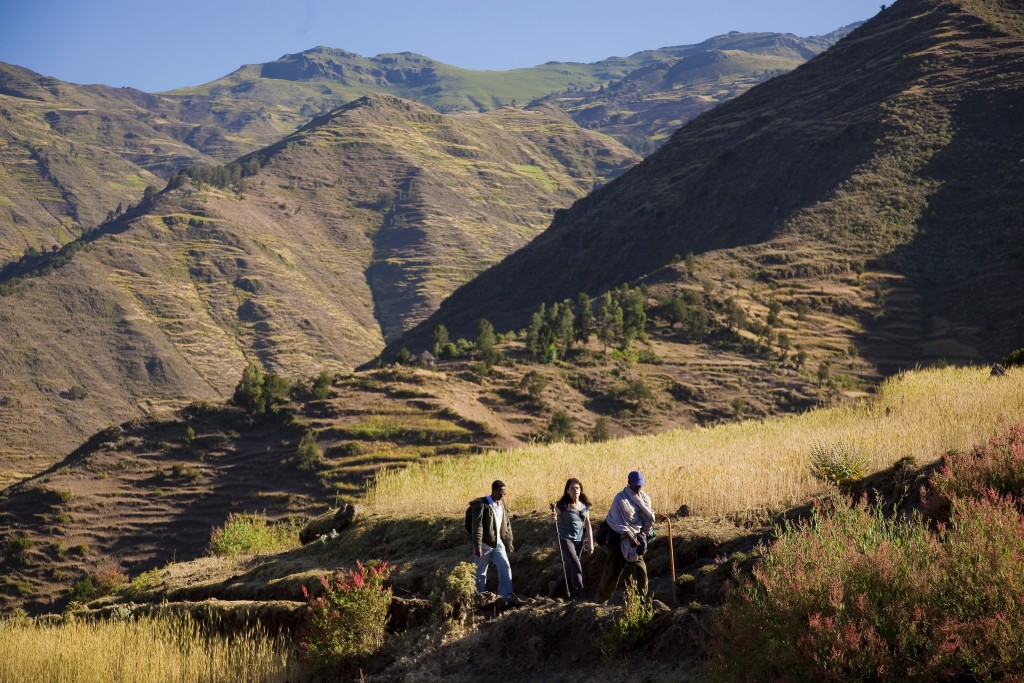 The scenery around us was breathtaking – I mean literally breathtaking: we were over 3,000 metres above sea level and I was gasping in the thin air as we reached the top of each peak. So it was fairly embarrassing to be overtaken along the ridge by men and women effortlessly walking barefoot, carrying bundles of grain on their backs.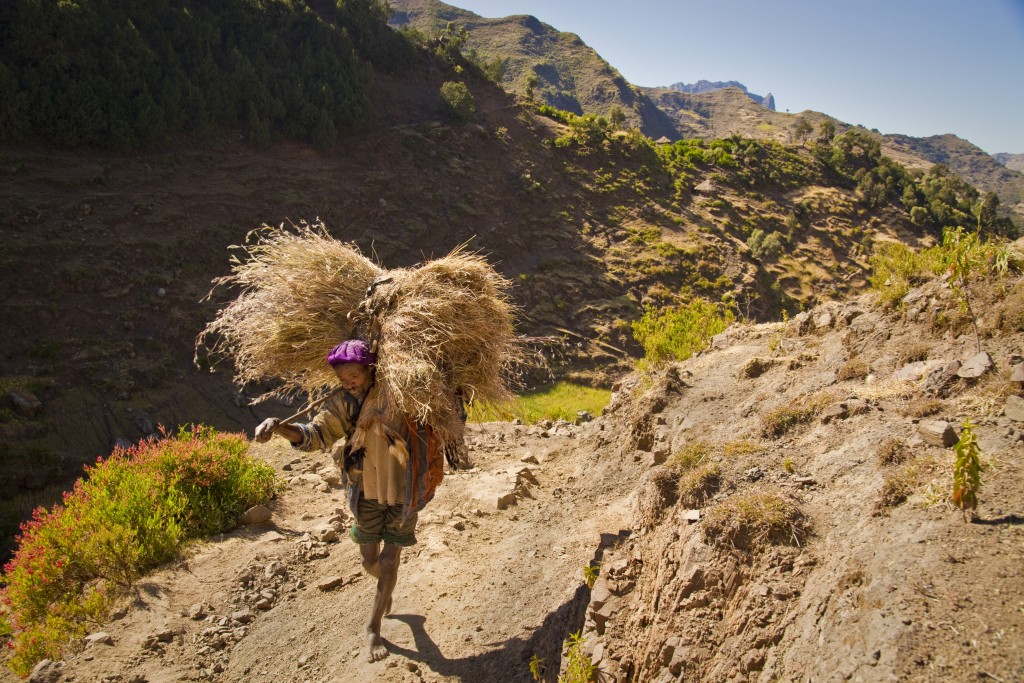 November is harvest time in north Ethiopia, following the rainy season from June to September. October to January is the best time to visit; from February to the start of the rainy season the temperature rises sharply and the countryside loses its green blanket, becoming scorched in the searing African sun.
The sun was dipping behind the mountain as we started the final descent into a green valley with a few small tukuls (traditional Ethiopian single-room hut dwellings) surrounded by crops. I could hear a child excitedly shouting 'faranji, faranji' (that was me, the 'foreigner').
And then there were people running forward, bringing animal skins and setting them down on the ground in front of the huts, our guides were shouting greetings in Amharic, and the mules looked like they'd clocked it – we'd arrived. I asked where Mekonnen was and this beautiful smiling boy, who was busy laying our furry carpet on the ground, approached me.
I hadn't been able to imagine what our meeting would be like and when it happened I just felt sheer and total joy to finally see him. I thought he might be a bit shy – I certainly was – but he was smiling and confident and shook my hand and then, a great honour, leaned in to touch each of my cheeks with his own. I told him I was so pleased to see him and thanked him for all of his letters over the past ten years. I was standing beside him and my legs were shaking as we talked – I didn't know if it was from the long climb or sheer emotion, maybe a bit of both.
He speaks some English and his English is good, so it was great to be able to talk directly to him and he introduced me to his mother, his father, two sisters, brother and a friend. I met his grandmother who was sitting outside a neighbouring hut, we bowed and exchanged 'Selam', the Amharic greeting.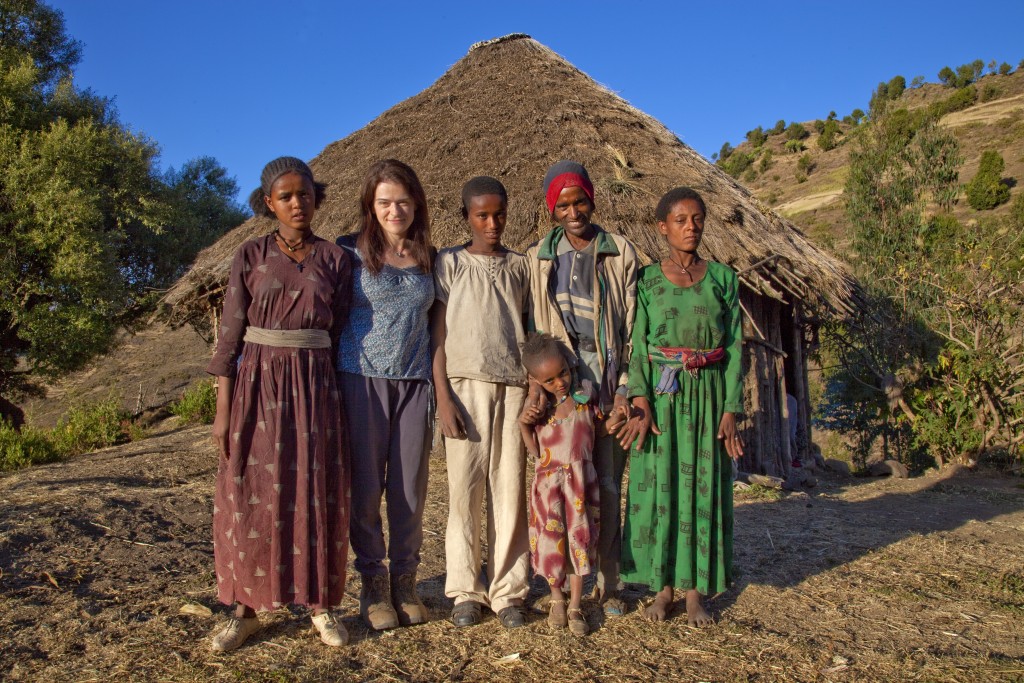 Then I sat with the family outside their house and gave them a photo album with copies of all the photos of Mekonnen and his family I have received through Plan in the last 10 years. His parents don't speak English but we managed very well by pointing and smiling at the photos and Kibremidir translated when needed. I also took a football and football annual for Mekonnen – I know he's a soccer fan from his letters – tea-towels for his mother and ping-pong balls for the rest of the family.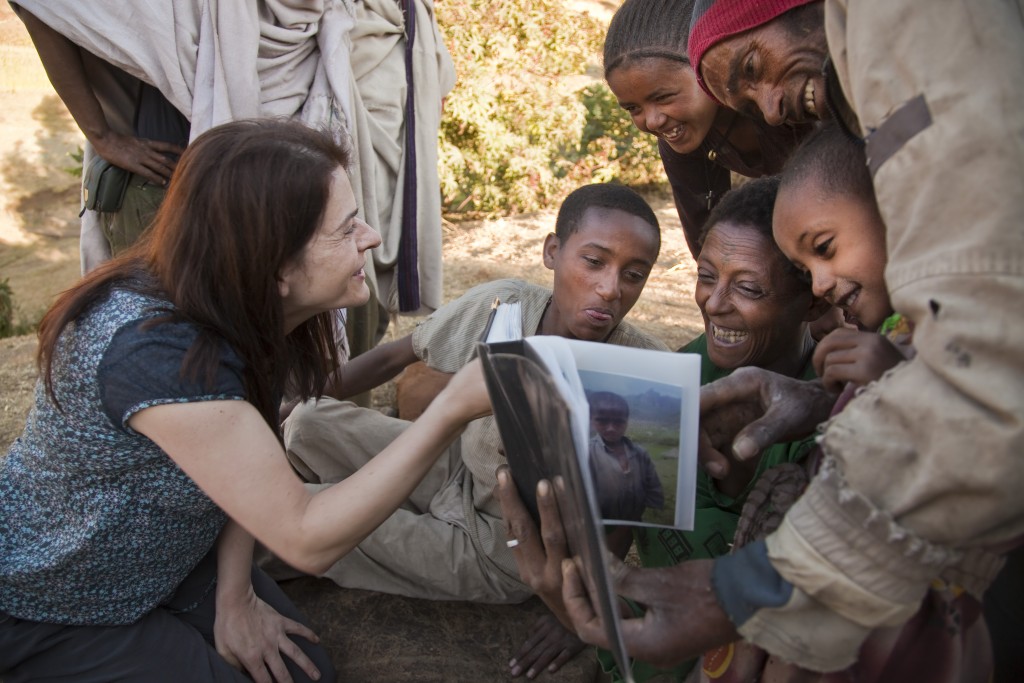 As the sun went down we went inside their tukul, a single circular room with benches around the edge and a small fire pit in the centre, the only light came from the open door and fire embers that Mekonnen's mother was stoking into life. I was given the seat of honour, a low wooden chair covered in fur skins, under the hut's only ornamentation – the clay wall that displayed a few photos of Mekonnen's family alongside one of me, my brother and nephew taken in our kitchen in Ireland on my birthday last year!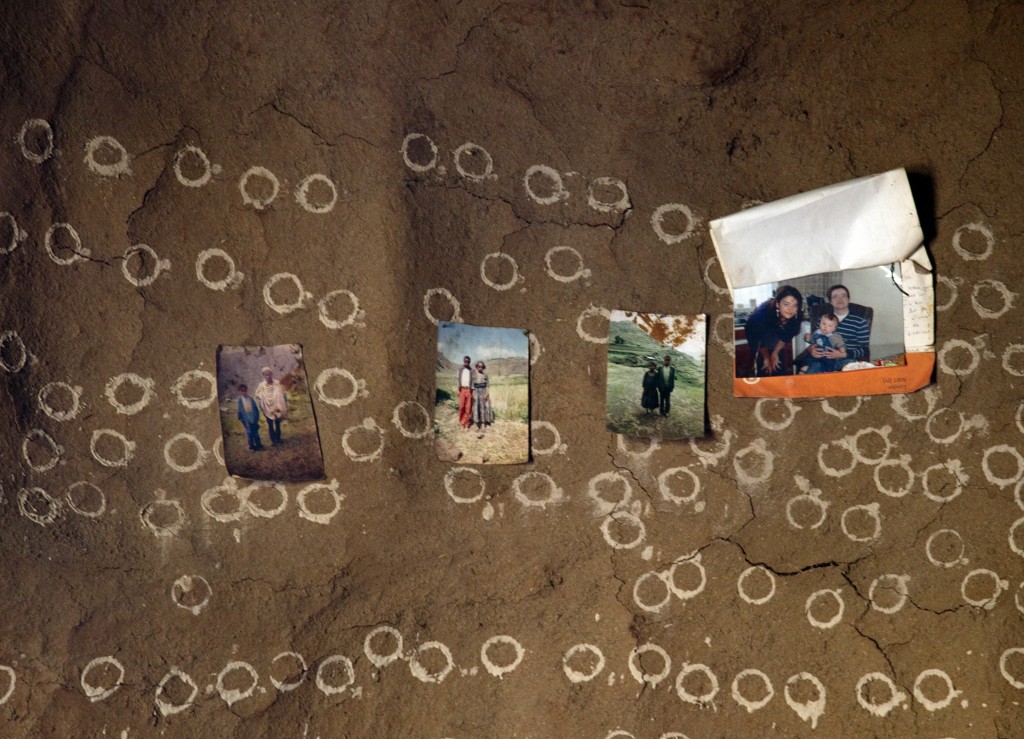 After the journey we'd just taken I could fully appreciate the huge task of getting my photos and letters to Mekonnen several times a year. And we had it easy – driving for four of the nine hours of the journey. The community volunteers who carry the letters do it on foot from Lalibela – though mind you they don't have me panting and wheezing up the side of a mountain to slow them down.
Letters are my link with Mekonnen but it's the £15 I donate every month that allows Plan to provide facilities for the whole community. For this village of Gormalie and surrounding areas Plan has provided a school for 620 children – so many they take it in shifts to attend, the first group coming to classes from 8am to 12, the second from 12 to 4pm. There's also a water project which provides clean water for the community, located beside the school.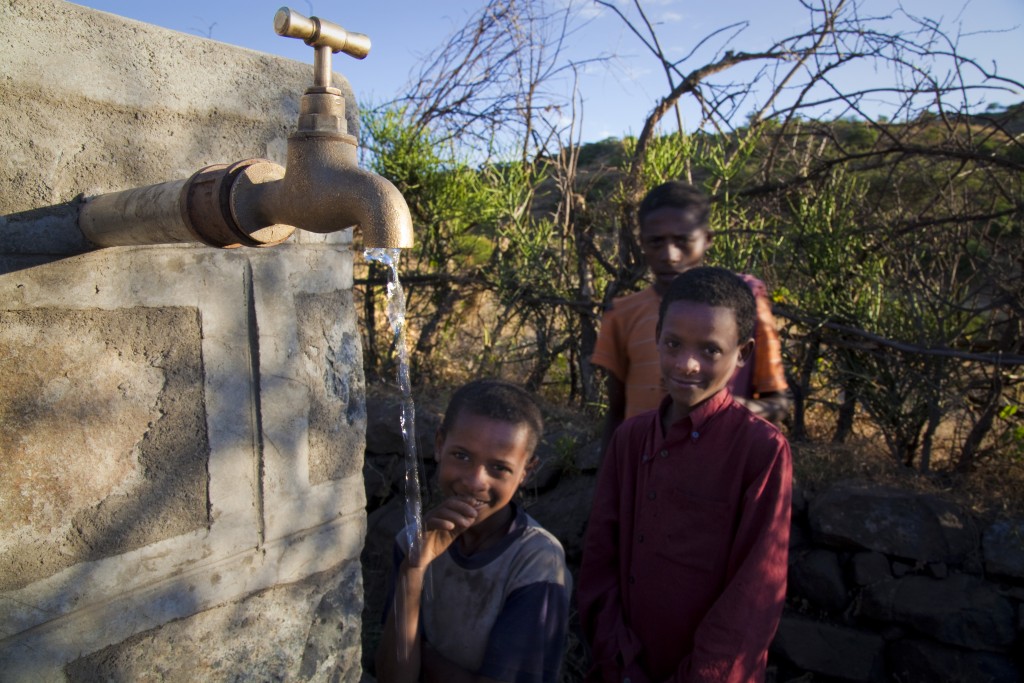 In the tukul we were served branches of peas and beans – Mekonnen sitting beside me helped me find the sweetest pods. There was a coffee ceremony, with beans roasted on the open fire in front of me, then painstakingly ground in hollowed-out bark by his mother as the kettle boiled on the flames. Ethopia is the original home of the coffee plant and this was the best coffee I have ever tasted.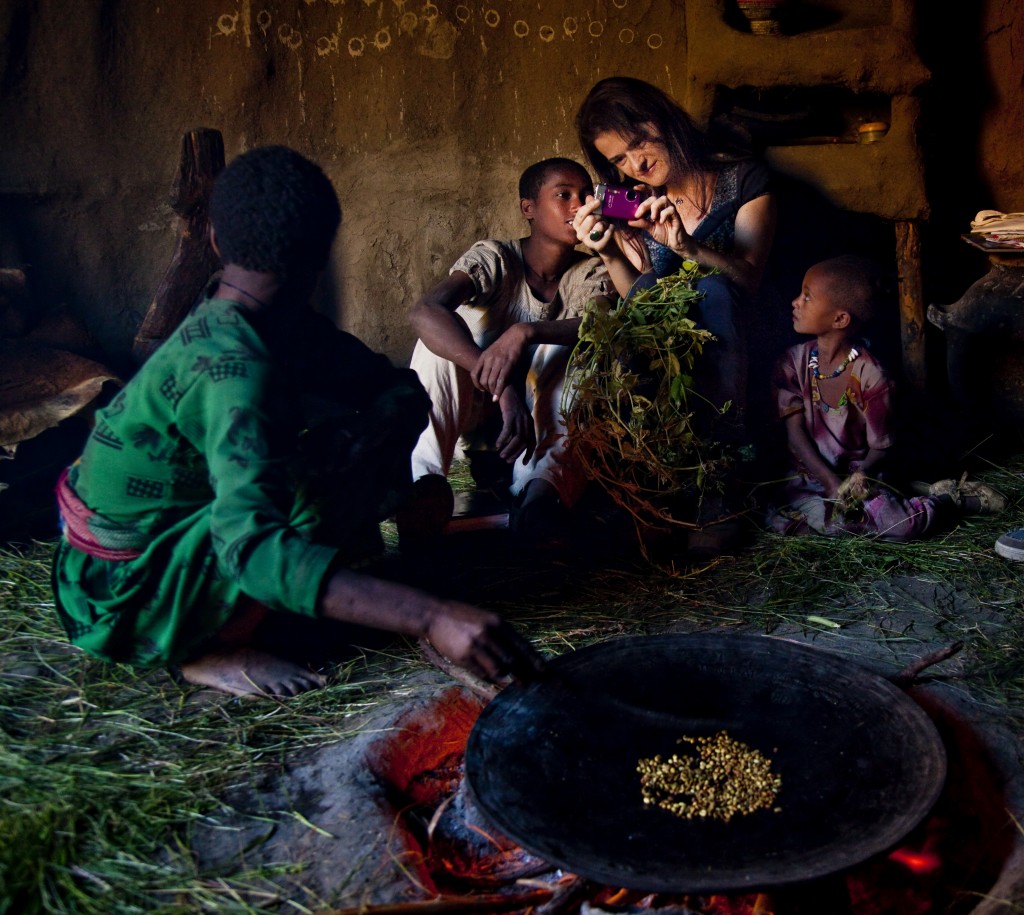 A huge serving platter of injera – traditional bread made from the local grain teff which grows all over the highlands – dressed with bean paste was passed around and we all helped ourselves from the plate, using the bread in place of cutlery to scoop up the thick bean filling. Freshly brewed beer, foaming furiously, was our next treat, only served on very special occasions as the grain used to brew it is expensive. As dusk fell the cows and goats returned and clustered around the tukul's open door, more people and children came in and I played ping-pong catch with Mekonnen's little sister. 'Would you like some milk? Mekonnen asked, and when I said yes a cup was taken outside to the cow and filled with sweet-smelling warm – and extremely fresh! – milk.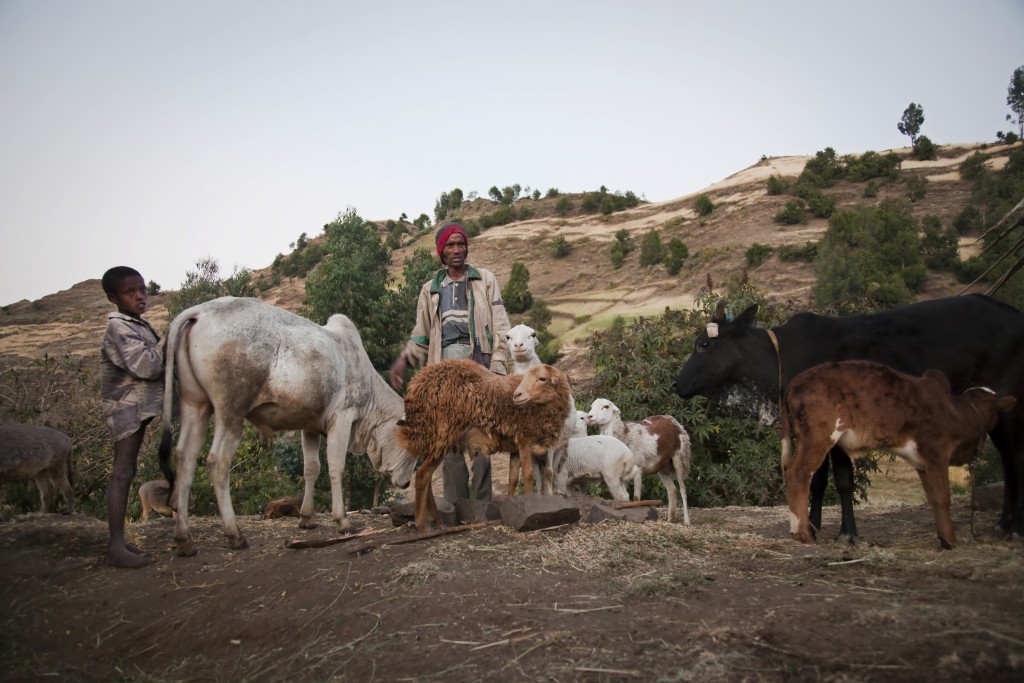 I talked to Mekonnen about school and his favourite subjects – English and maths – and enjoyed the smiles of his younger brother who touchingly never seemed to stop beaming at me the whole time I was there. But by then it was very dark and we still had an hour's walk across the mountain to the school where we would spend the night. The family were horrified to find we meant to leave and wanted us to spend the night there. I was humbled by the hospitality that insisted on finding space for a group of strangers among a family of seven in a small one-room tukul. Then Mekonnen, his brother and friend insisted on coming with us to carry bags and guide us safely across the mountain.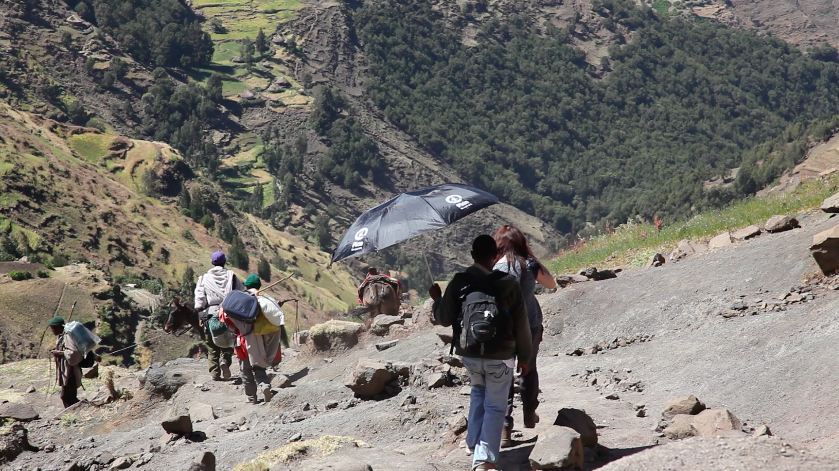 And there was still more hospitality when we reached the school; the teachers who lived in small stone huts close to the main building were worried the school floor wouldn't be clean enough for our sleeping bags and insisted on giving up a room so we could sleep in their home, cooking us a dinner of macaroni and egg before we went to sleep.
I'm so moved by the generosity of people who have so little, sharing it with random passers-by who turn up unannounced in the middle of the night. But it doesn't matter how much or how little, it's the fact they share it with a happy heart and generous spirit. They may be poor in material possessions but in kindness and generosity the people I met on the mountain of Abuna Yosef are the richest of the rich.
And I learned something very important while I was there – and that's to take what I've been given in life and make the most of it, not to wish my life was different or hanker after a life I don't have, but use what I've been given to achieve what I want. I've been blessed with many more advantages in life than Mekonnen. He walks for two hours every day across a mountain to get an education, taking what he has been given to make his life better. I can learn a lot from him.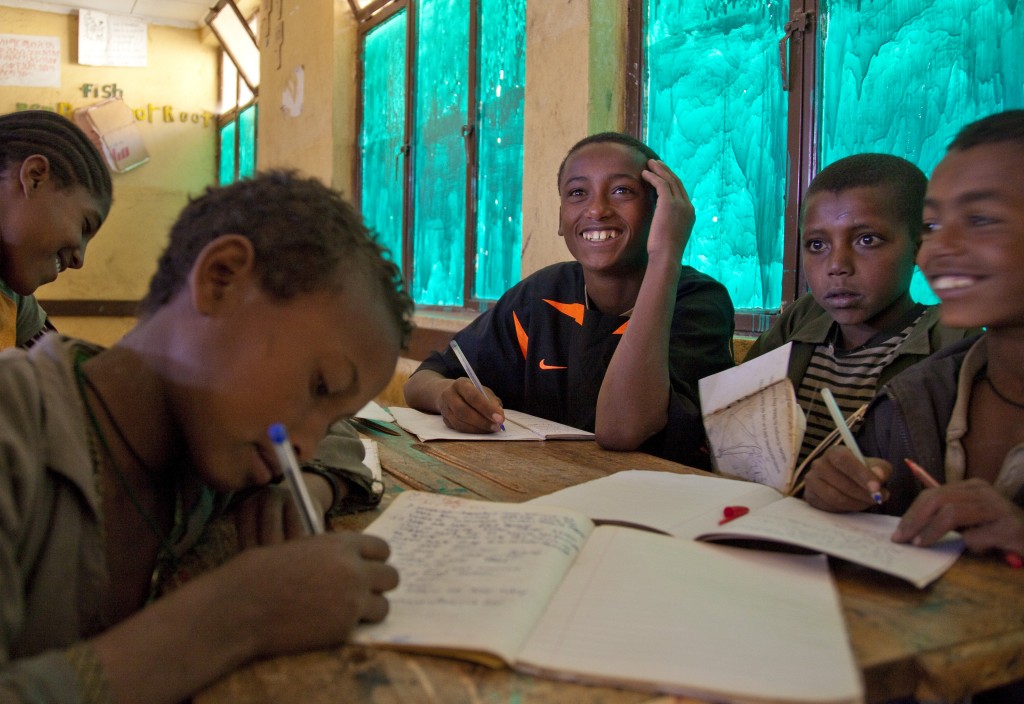 How to sponsor a child
Plan works with communities in 48 developing countries to help alleviate child poverty. In some of these countries one in five children will die before they reach their fifth birthday. For just £15 a month you could change this, helping Plan to build new schools and water treatment plants in local communities. Find out how to sponsor a child on the Plan website at www.plan-uk.org.