There's a cold sea breeze blowing, fresher than the London air I've left behind, as I step off the plane in Jersey. Feeling totally wintered-out, I've come to try the Ayush Spa in Hotel de France. I'm so tired that the shininess of the taps irritates me as I wash my face in the bathroom that night. How do they get them so shiny? And then I realise I've had it with winter. I want brightness and sunshine and lambs jumping in fields. Not gales and flu bugs and everyone looking miserable.
Ayurvedic is a system of holistic healthcare that originated in India over 5000 years ago and is practiced there today alongside Western medicine. 'It's not seen as an alternative practice in India,' the Ayush spa director, Dr Prasanna, explains to me during my consultation the next morning. 'There it's part of the mainstream.'
The Ayurvedic system looks at the person as a whole – our minds and our bodies, our emotions and our spirits – aiming to bring us back a state of balance between all of those elements. Yes – aiming to bring us back. 'We knew this once,' says Dr Prasanna. 'We simply need to find it again.'
Finding my dosha
He's helping me to find it again – though I suspect and he knows it will take longer than my two-night stay here – by first finding my 'dosha', my personal constitution which is made up of a combination of three bio-physical forms. These are Vata (air), Pitta (fire) and Kapha (water). He finds it by giving me a short questionnaire on my physical appearance and personality traits, by checking my eyes and tongue and by feeling my pulse. And by looking at me very intently.
'Vata and Pita,' he pronounces. Air and water, a classic combination. He mentions I have problems with static electricity sometimes. I've almost been setting fire to inanimate objects over Christmas with the amount of sparks coming off me – so yes, this is spot on. He sums up my hair and skin condition perfectly – though of course he could do this just by looking. But he also raises a question about a change in my body shape. Which there has been, several years ago, due to illness. Overall it's an impressive diagnosis.
How does Ayurveda work?
So how does this balance thing work? Well – as human beings we achieve balance when we are in a state of tri-dosha. Life, the world, the to-do lists, the daily commute, the new year resolutions gathering dust, the rain, the too-shiny taps and everything else conspire to knock our doshas out of balance. Imbalance results in ailments and poor mental health. Ayurveda helps us to regain balance and therefore good health.
Personal assessment over, it's time for my treatment plan. This includes everything from the herbs I will be massaged with to the food I should eat. Off my list now are sour fruits like grapefruit (which I can't bear anyway), kiwis (much too fiddely to bother with), hot peppers (never feature on my shopping list) and wild rice (which my body routinely refuses to digest). But I will miss mushrooms and the occasional aubergine and am not sure how well I'm taking to 'olives in moderation'.
And it's interesting to note that I have recently been cutting out a lot of the 'don't' list, just from personal preference – avoiding hard cheese, red meat and caffeine. And I practically cheer when he advises me that I should eat warm cooked foods like stews and soups in favour of cold raw foods like salads. Ha! No more slowly chewing my way through a plate of crunchy awfulness from the health food shop. My mind tried to reason it was good for me, but my body was shouting no!

Finding the answers: Ayurvedic treatments
I really enjoy talking to Dr Prasanna; he also gives me some great tips on eating to boost my energy and to help a medical problem I have. Then it's time for my first treatment, a classic Shirodhara massage. And so my head and feet are rubbed for a while and afterwards I lie there quietly while oil flows smoothly over my forehead and into a basin beneath. This may have lasted 10 minutes, it may have last 10 hours; the rhythmic soothing flow nudged my body into a place the conscious mind can't take it and suspended the world just a few feet back, giving me peace and space. Once it's finished I ask how long has it lasted. 40 minutes it turns out.
I leave the oil in my hair for a few hours afterwards – the benefits will continue to work on my body explains my lovely therapist Kavinda – and laze around in the spa. The pool area is light-filled from the huge wraparound window. I lie on a sunlounger and enjoy the benefits of the sun without the drawbacks of the wind. The main swimming pool is very large and the massage pool bigger than some standard-size hotel pools; there are also hot and cold plunge pools and a sauna.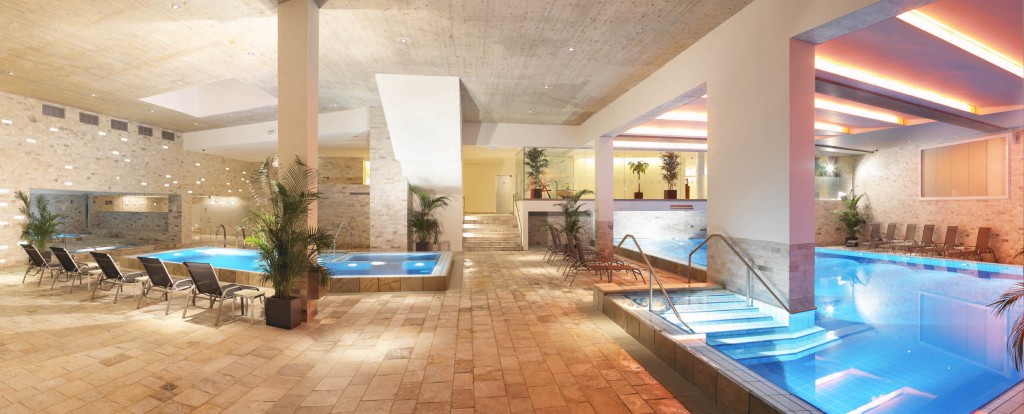 That night I sleep like a baby and wake with gloriously shiny glossy hair, like an A-lister on Oscar night. And during my Udvartana massage the next morning I devote the 55 minutes to working out a niggling problem that's been bothering me for ages and is probably the cause of my excessive tiredness and propensity to be bothered by over-shiny taps. The herbal exfoliator will continue to work out the toxins in my body and mind says Kavinda as she finishes the treatment. And she's right. By the end of the day the problem is gone.
Back in the real world, what's the hotel like?

Looking very 'Victorian sea-front' in its website photo, the hotel's exterior actually masks a fully renovated, very modern interior space. And it's not on the seafront though I can catch glimpses of the beach from its hilltop location, the promenade is a 20-minute walk.
The building dates from the mid-1800s when it first opened as the Imperial hotel. Deemed 'too grand' by the locals, it eventually closed and has since been a Jesuit college and a training school for German officers during the island's wartime occupation. It re-opened as a hotel in the '70s and went through a complete refurbishment a few years ago, adding the spa in 2006.
What else can I do in Jersey?
There's no shortage of entertainment once you've done your time lounging in the spa; highlights include Durrell Wildlife Park in 32 acres of gardens, the Neolithic passage grave and dolmen Le Pouquelaye de Faldouet, two castles – Mont Orgueil and Grosnez, and plenty of adventure centres, sea sports, tours and walks. For full details on a huge variety of activities visit the Jersey Tourism website at www.jersey.com